4x4 Mode
From Squatchopedia 2.0
There has been much debate between the PNW Bigfoot Researchers and the Southern Bigfoot Researchers about the possibility of Bigfoot being able to go into 4X4 mode, a term made commonplace by D.W. "Darkwing" Lee after learning about it from Timberghost. In the Southern United States, researchers have spotted Bigfoot moving in 4X4 mode as the creatures hunt and also to avoid detection.
Here is a statement explaining about 4X4 mode from Darkwing.
They will hunt in 4X4 mode to give them extra speed in short distances, they also will cross open areas in 4X4 mode to avoid detection. I've seen a whole troop cross a field in 4X4 mode, initially giving me the impression that it was cows or other animals in the darkness, until they reached the tree line, then stood up and walked into the woods.
With an animal the height of a bigfoot, 4X4 mode and belly crawling are part of their stealth. In Oklahoma and Arkansas, it's accepted by the researchers there, that Bigfoot does go in 4X4 mode quite often. Next time you see what you think is possibly a bear moving across the field, better look a little closer, it may be a Bigfoot crossing in 4X4 mode. And for those who will claim that the reports don't show this trait of Bigfoot, they need to dig deeper, the International Bigfoot Society had multiple reports from across the country that shows Bigfoot were in 4X4 mode.
The following is a conversation between Parnassus from the Bigfootforums when he asked D.W. Lee if the Bigfoot left tracks, to which D.W. replied:
Yes they do Parnassus, but they tend to resemble bear tracks once the mid-tarsal break comes into play. I followed a trackway once for over 200 feet that then turned into what looked like bear tracks. Only the front half of the foot is touching the ground when in 4X4 mode.
The first one I saw in 4X4 mode, actually came up about even with the bottom of the window on my Chevy Blazer with the top of it's back, it was also nearly half the length of it. The smaller ones tend to resemble chimps in 4X4 mode, as one of our researchers had a close encounter with one from about 10 feet away. First time I ever heard that researcher cuss from the shock of getting that close.
I was the first to bring this forward into the mainstream Bigfoot Community well over 10 years ago, and was unmercilessly bashed for daring to claim Bigfoot went into 4X4 mode. My how the times have changed and folks are now onboard with it. I'm really glad to see that some folks have been more open to what Bigfoot does.
This is the juvenile in 4X4 mode that was sketched by Biggjimm, the MABRC Western Oklahoma State Director for Squatchfinder, the MABRC Researcher who had the close (10 feet) encounter. Hopefully it illustrates somewhat about how 4X4 mode looks.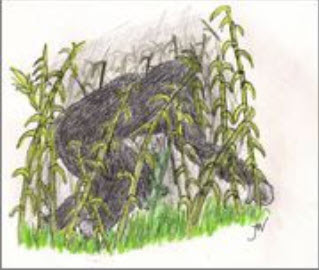 The thumb is splayed out, if you turn it sideways, they put it out to the side to help steady themselves. The knuckles are more than twice the size of a human hand. Here is roughly what it would look like.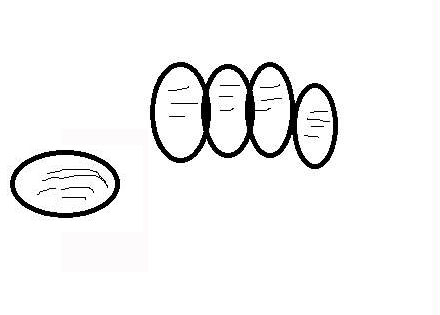 Freeman's famous Low Creek Knuckle Print from July 1982 is a good example of the way it looks when they are in 4X4 mode, with the thumb splayed out away from the hand and knuckles.