(Hoax) Alberta, Canada Trapper Bigfoot Photo
From Squatchopedia 2.0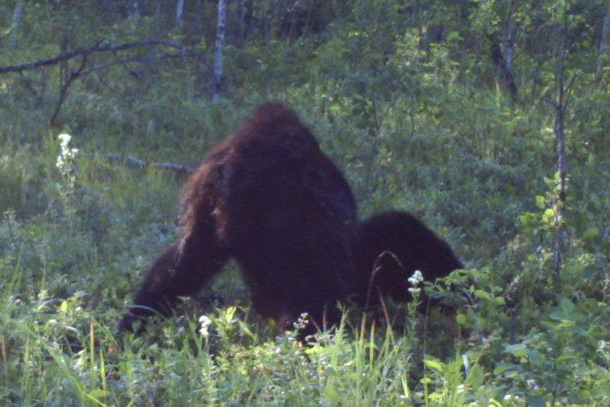 In August, 2012, this photo first appeared on WhoFortedBlog and Bigfoot Evidence with the following information:
WhoFortedBlog just posted a photograph of Bigfoot from a woman named "Penny" who claimed that it was originally taken by an game trapper from Alberta.
"I know this person. They are a dogsledder and would in no way be the type to try to fool around with fake pictures. They actually think it's a bear and cub but for some reason they only have one photo. Strange."
Red Flags that are cause for this to be a hoax.
A third party presented it.
No other information or contact information for the person who presented it outside of her name.
Supposedly the person who took the picture thought it was a bear and cub.
Only one photo.
Based on these red flags, this is considered a hoax and is nothing more than a bear and her cub as presented in the original information.